Thanks for your interest in acupuncture treatment with me.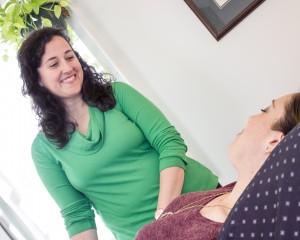 For your first treatment, you'll want to set aside at least 1 ½ to 2 hours in your schedule.  Make sure you can arrive without a rush and have a few moments to yourself to relax after the treatment. Please also read our COVID 19 safety protocols.
During the first treatment, we will discuss your goals for treatment and any other health concerns you have.  I will then go through your health history and body systems, like sleep, digestion, etc to get a full picture of how your body works.  The more information I can get, the better diagnosis and treatment plan I can create specifically for you.  After we chat, I will do a short, non-invasive Chinese medical physical exam.   Then, you will receive the first treatment which typically will last about 20-30 minutes.
For all visits, when possible, please do not wear fragrances (i.e. heavily scented soaps or lotions) to your appointments, and be sure to eat a healthy snack or meal before you arrive.  Also, please avoid the use of caffeine or alcohol before and after your appointment if possible.
Following the initial appointment, I recommend that you schedule seven to ten consecutive appointments over the following seven weeks.  Treatments work cumulatively, therefore weekly treatments will allow us to assess the effectiveness of the treatment and respond accordingly.  Then, as your goals for treatment are being reached, typically you can expect to space out treatments to every 2 weeks, monthly or seasonally as we see fit.
Please click here for clinic policies on late cancellations/rescheduling etc.

Find Relief. Find Balance. Find Your Wellness.